10 Fast Fingers is a website where students may test and improve their typing speed by playing a variety of fun typing games. Fluency in typing or keyboarding has become a crucial ability for 21st-century students. In today's knowledge economy, it's not just about learning to type; it's also about learning to type quickly. From an educational standpoint, the amazing thing about 10 Fast Fingers is that as children learn to write quickly, they also get to practice the most popular words in a language and expand their vocabularies.
Learning to type fluently has a number of cognitive advantages, the most important of which is an increase in one's level of focus. Your general focus is disrupted every time you look down to search for keys on your keyboard, and depending on how quickly you can pick up where you left off, going back and forth between the screen and the keyboard can take a significant toll on your focus and attention. Typing becomes a difficult challenge for slow typers, and it can seriously impede the learning process. Instead of utilizing typing to help them learn, it becomes the focus of their learning, providing an additional layer of difficulty and changing the focus of learning away from the final product and toward the medium.
Students must practice, practice, and practice to improve their typing speed. After all, practice makes perfect. The brain is forced to establish new neuro-pathways in order to assimilate the learnt pattern and make the new habit second nature through repeated typing exercise. Games are a terrific way to practice typing, and 10 Fast Fingers is a great place to start.
Here are the most popular typing games that 10 Fast Fingers has to offer.
Typing Tests
10 Fast Finger provides rapid one-minute typing speed tests. You can check your typing speed and see how it compares to others. French, Arabic, Dutch, Finnish, Greek, Hebrew, Hindi, Korean, Russian, Kurdish, and many other languages have typing tests accessible. Typing tests are divided into two types: the first utilizes the top 200 words in each language, while the second is more complex and employs the top 1000 words.

Go to 10 Fast Finger and create a free account to begin playing Typing Tests. We  strongly advise you to create an account before you begin playing because it will allow you to track your progress, obtain information about your visitors and competitors, and much more. After logging in, select Typing Test from the left-hand menu and begin typing in the designated box. The countdown timer begins as soon as you press the first keystroke. You've got one minute to type as many words as you can. Errors in typing are indicated in red. When the timer expires, you'll be given a summary of your results, which will include the total number of keystrokes you made, the degree of accuracy, and the number of correct and incorrect words.
You can share your typing test results as a link, an embed code for a website or blog, or via social media.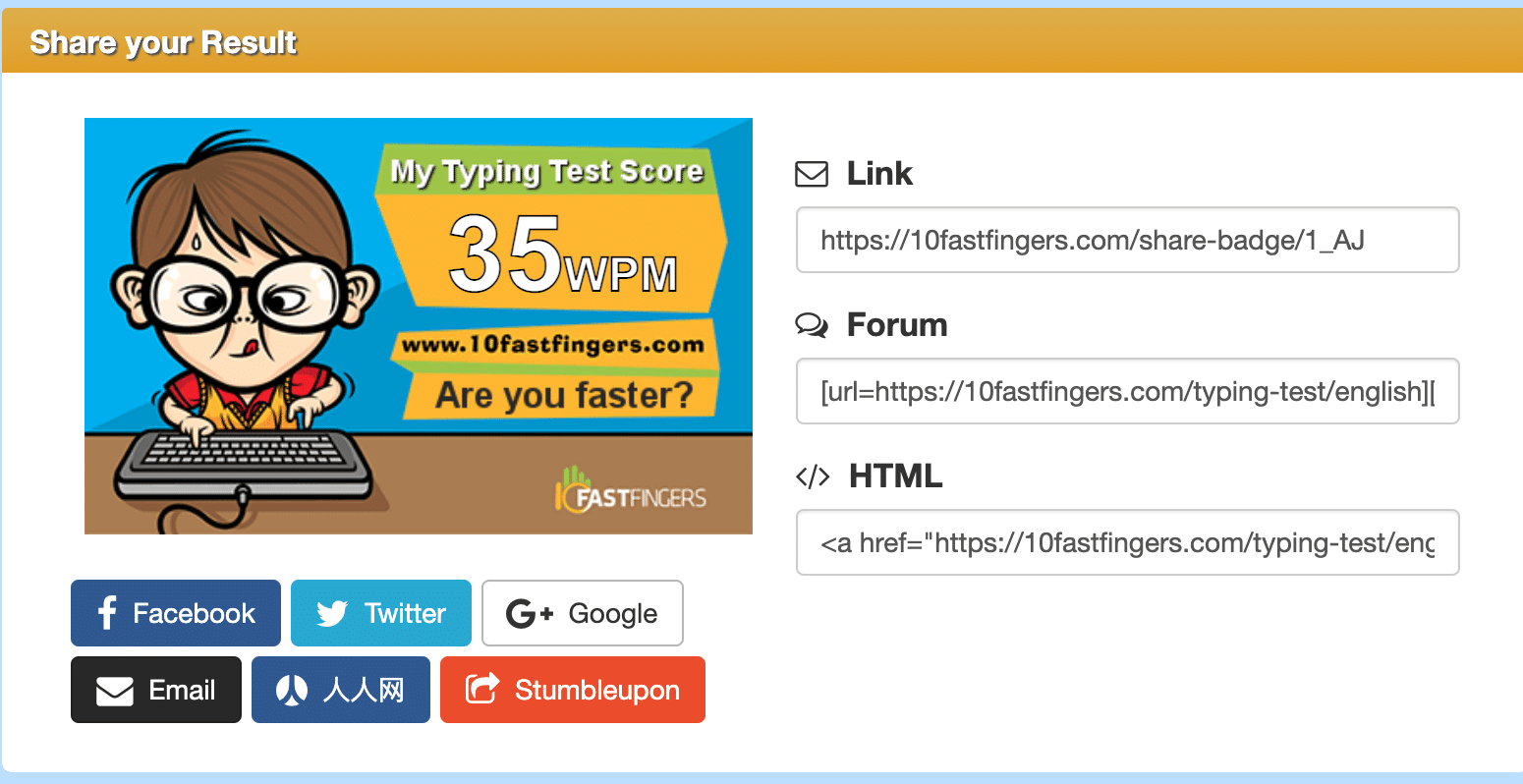 Group or Multiplayer typing
You will compete against other contestants online and in real time in the Multiplayer typing exam. To begin, select Multiplayer typing from the left-hand menu, enter a username, and then press 'Enter.' The number of players currently on the server will be presented in the displayed window, and as you type, you will be able to monitor your progress in comparison to theirs. You can also change the game by pressing the 'change game' button, which will place you among a new group of players.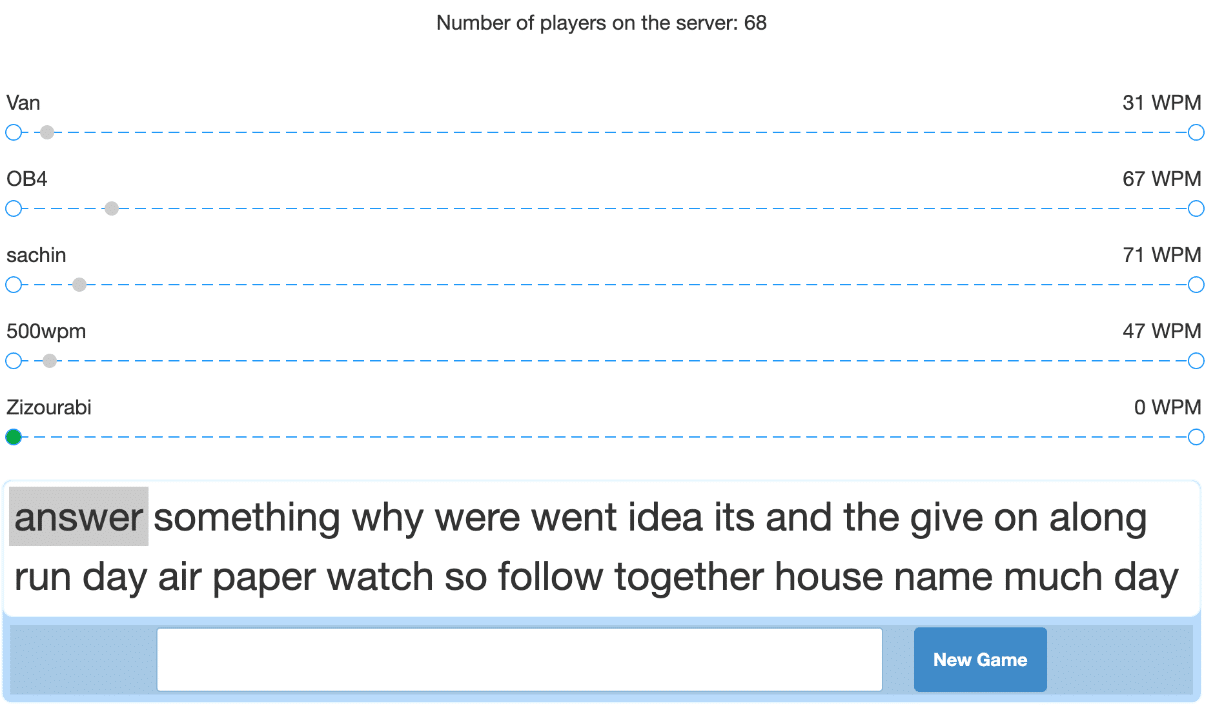 Custom Typing test created specifically for you
The possibility to construct your own typing test is another intriguing feature of 10 Fast Fingers. To do so, go to the left-hand sidebar and select Custom Typing Test, then 'Open settings.' After that, make the following changes to the wordlist: You can change the game's time (from 1 minute to 10 minutes) and delete or add your own sentences, then click Apply Settings when you're through. You now have your own typing game that you may play with your friends. To embed the game in your blog or website, use the embed code.
You can make your own games as a parent by using words from vocabulary lists you've previously revised with your child. Allow your kids to play these games and hit two birds with one stone: They will be able to improve their speed typing skills as well as their vocabulary.
Competition in Typing
This is where you may put your prior typing talents to the test against more advanced competitors.
"Each competition is available for 24 hours, during which time you will have the chance to win first place." The competitions work in the same way as the Typing Test, except that instead of a random set of words appearing every time you reload the test, the words for each competition will remain the same. Try the "private competition" option if you're having a friendly typing competition with just your friends.
Practice mode for text
You can practice typing on complete texts or paragraphs in this game. You have the option of creating your own texts or selecting from the site's library of texts. You must be logged in to create your text. Once you've logged in, go to the left-hand menu and select "Text Practice," then "Create text" and fill in the blanks. You can utilize the search option in 10 Fast Fingers to look for created texts. You can also use the categories TOP, UPCOMING, and MY FAVORITES to find texts.
Top 1000 keystrokes mode
This option allows you to practice the 1000 most popular English words. The game is divided into levels, each of which contains 50 words, with a boss level holding 100 words. The next level is automatically unlocked whenever you reach a typing speed of 50 WPM (words per minute). The more stars you unlock, the faster you type.
Try out 10 Fast Fingers and let us know what you think!