Small and peripheral pulmonary lesions, which might be early indications of lung cancer, are difficult to diagnose. With 18 successful patients since December 2021, the Chinese University of Hong Kong's (CUHK) Faculty of Medicine (CU Medicine) has become the first institution outside the United States to undertake the hybrid operating room robotic-assisted bronchoscopy operation.
This groundbreaking approach allows doctors to precisely access small and difficult-to-reach lung nodules, allowing for biopsy for early diagnosis and treatment of lung disorders. It is now being tested in a clinical study with the goal of recruiting up to 1,200 patients globally. The accuracy of robotic-assisted bronchoscopy in identifying lung tumors improves dramatically, as does the procedure's stability.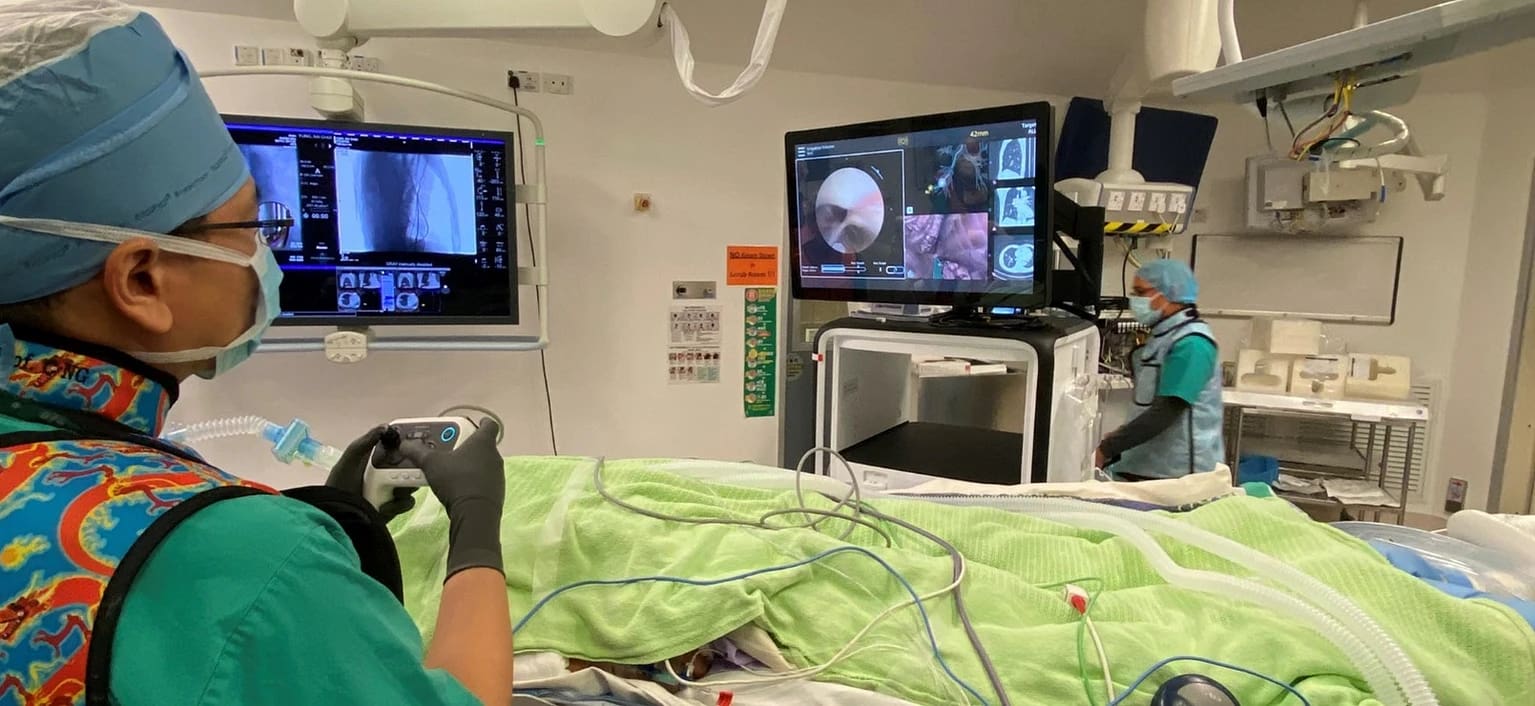 According to the Hong Kong Cancer Registry, lung cancer is the greatest cancer killer in Hong Kong, with more than 4,000 individuals dying from it in 2019. A growing number of tiny lung nodules are being discovered deep inside the lungs, where they are difficult to reach, as a result of increased awareness and use of diagnostic imaging. Biopsying these nodules to get tissue for early lung cancer detection remains a problem. The type of biopsy that is utilized is frequently determined by the size and location of the lesion.
Electromagnetic navigation bronchoscopy, in contrast to traditional bronchoscopy, may reach farther into the peripheral or even the most distal sections of the lung using very thin, flexible catheters and equipment. In comparison to earlier bronchoscopy systems, the newest robotic-assisted bronchoscopy platform provides extra benefits.
A bronchoscopy is a type of endoscopic surgery that is generally conducted by doctors who specialize in lung illnesses, according to Dr. Rainbow Wing Hung LAU, Clinical Assistant Professor (honorary), Division of Cardiothoracic Surgery, Department of Surgery at CU Medicine. The accuracy, safety, and invasiveness of conventional lung cancer diagnostic options are all limited. False negatives and consequences like pneumothorax and hemorrhage can occur as a result of these restrictions.
Furthermore, the innovative robotic-assisted bronchoscopy employs real-time optical imaging and electromagnetic location to allow the operator to navigate the human airways. The surgery is carried out with the help of a remote console that is connected to the robotic arms and bronchoscope, allowing the equipment to be precisely guided to the target place within the lung. While instruments are deployed for biopsy, the sophisticated robotic mechanism within the bronchoscope maintains stability, boosting the precision of lesion localization and diagnostic yield.
In the Asia-Pacific area, CU Medicine is a pioneer in thoracic surgical therapies. The CU Medicine thoracic surgical team has been at the forefront of advanced minimally invasive techniques using cutting-edge technology, such as single-port video-assisted thoracoscopic surgery for major lung resection, image-guided surgery in the Hybrid Operating Room, and transbronchial microwave ablation for lung tumor treatment.
Professor Calvin Sze Hang Ng of CU Medicine's Department of Surgery's Division of Cardiothoracic Surgery stated that the team is ecstatic to have done the first hybrid operating room robotic-assisted bronchoscopy in the Asia-Pacific area. Since 2018, the technique has been used in the United States with great success. Our team has successfully reached all of the lung lesions for biopsy or dye marking lung excision in all 18 instances conducted so far.
The team now has a gadget that allows them to more precisely address small and hard-to-reach lung lesions than ever before. When compared to conventional bronchoscopy, the improved diagnostic yield of emerging robotic-assisted bronchoscopy platforms like this would allow for earlier cancer diagnosis and fewer repeat operations, potentially saving money and giving a better patient experience and clinical outcome.